Please take a moment and bookmark this page. This factory direct page will be your best deal on any new, full US warranty, Brickwall Product. International customers may wish to use our EBAY STORE to take advantage of the convenient and economical international shipping Ebay offers CLICK HERE.

If you like us please share with your friends
Audiophile Rack Mount units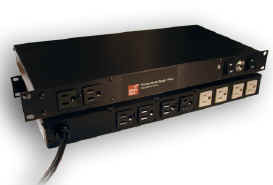 Please note that rackmount products are built to order and may take about 7 business days.
Note that anyone ordering from the quantity form without meeting the minimum quantity will be automatically charged the quantity one price and shipping
Audiophile Rack Mount units
Q: Does the Brickwall audiophile surge protector and line conditioner hinder or limit the current in any way to high powered amplifiers or negatively affect the perfect sound I demand from my high end sound system and amplifier?
A: Absolutely not! One of the specific requirements in our design was that the Brickwall had to deliver superior power performance to any and all audio devices available (including the most demanding audio amplifiers) without accepting anything less than perfect signal output quality. Rest assured, the Brickwall will neither let your perfectly tuned eardrums down nor limit the performance of your amplifier in the slightest bit! 
All rack mounts include modular setups with rubber feet.. The rackmount ears are removable. Each pair of recepticles is noise isolated from the other pairs.
We strongly recommend that if you want Rack Mount that you go with the 20A unit
Brick Wall PWRM20AUD 20A Audiophile (isolated receptacles) Rack Mount 10 plug Surge protector Plug is 20A (outlets are 15A plugs)
Dimensions: 1.75" H x 19" W x 8.2" D
$589
| | | |
| --- | --- | --- |
| Brick Wall PWRM20AUD 20A Audiophile (isolated receptacles) USE this form if ordering 3 or more to get a reseller quantity discount | $579 | |
| | | |
| --- | --- | --- |
| Brick Wall PWRM15AUD 15A Audiophile (isolated receptacles) Rack Mount 10 plug Surge protector Plug is 15A (outlets are 15A plugs) Dimensions: 1.75" H x 19" W x 8.2" D | $525 | |
Shipping
Warranties

Questions

Shipping to US 48 states (usually about $12-$18) will show up in the Shopping cart before you have to type in your name and address information.

Need it faster than 3-5 day ground?
Call or email for a quote if time is of the essence or you want expedited shipping. Note that most units are usually in stock but sometimes must be built to order and that usually adds only 2 or 3 business days.

Shipping to Canada will generally be double what the shopping cart says or more.
Will confirm Canada shipping price with you by email before processing the charge or send you a Paypal invoice for the additonal shipping .

Shipping charges to Hawaii will be at least $75 and possibly much more. We had to discontinue ground shipments to Hawaii because the trucks kept sinking. Email nancy@sellcom.com for a shipping quote to Alaska or Hawaii.

For a shipping quote to other locations, send an email with your proposed order and postal code to: Support@sellcom.com

Covered by manufacturer's full 10 year US warranty.





Just call

800-SELLCOM
(800-735-5266)
This site is copyright © 1998-2019 SELLCOM Inc. with all rights reserved. SELLCOM is a registered service mark SM.
We strive to be diligent regarding all pricing and details. We are not responsible, however, for typos or other errors.
Any trademarks or servicemarks on this site are probably the property of their respective owners
1-800-SELLCOM 919-401-0067
Email support@sellcom.com
SELLCOM PRIVACY STATEMENT
As consistent with integrity and basic common decency, SELLCOM keeps customer information private except for those directly involved in shipping your product to you. We do NOT sell mailing lists, email addresses, FAX numbers, phone numbers or anything like that (and, quite frankly, we don't think very highly of those companies who do that sort of thing).
www.surgeprotect.com
Surge suppression and line filtering for critical non-fail protection and clean power. Whether you are looking for power surge protection, a surge protection device, transient voltage surge suppressor, transient voltage surge protection, power line conditioner, power and surge protection, voltage surge suppression, surge suppression products, transient voltage surge suppressors, surge suppression, power protection from surge, transient voltage suppressors, transient voltage suppressor, transient voltage suppression, spike protection, power line conditioners, the best power strip surge protection, transient voltage surge protector, transient voltage surge suppression, backup brownout power protection, transient voltage suppressor, power supply line conditioners, transient voltage protector, surge suppressors line conditioners, power protection line conditioner, or power strips surge protector the Brickwall is your best option.